PROGRAM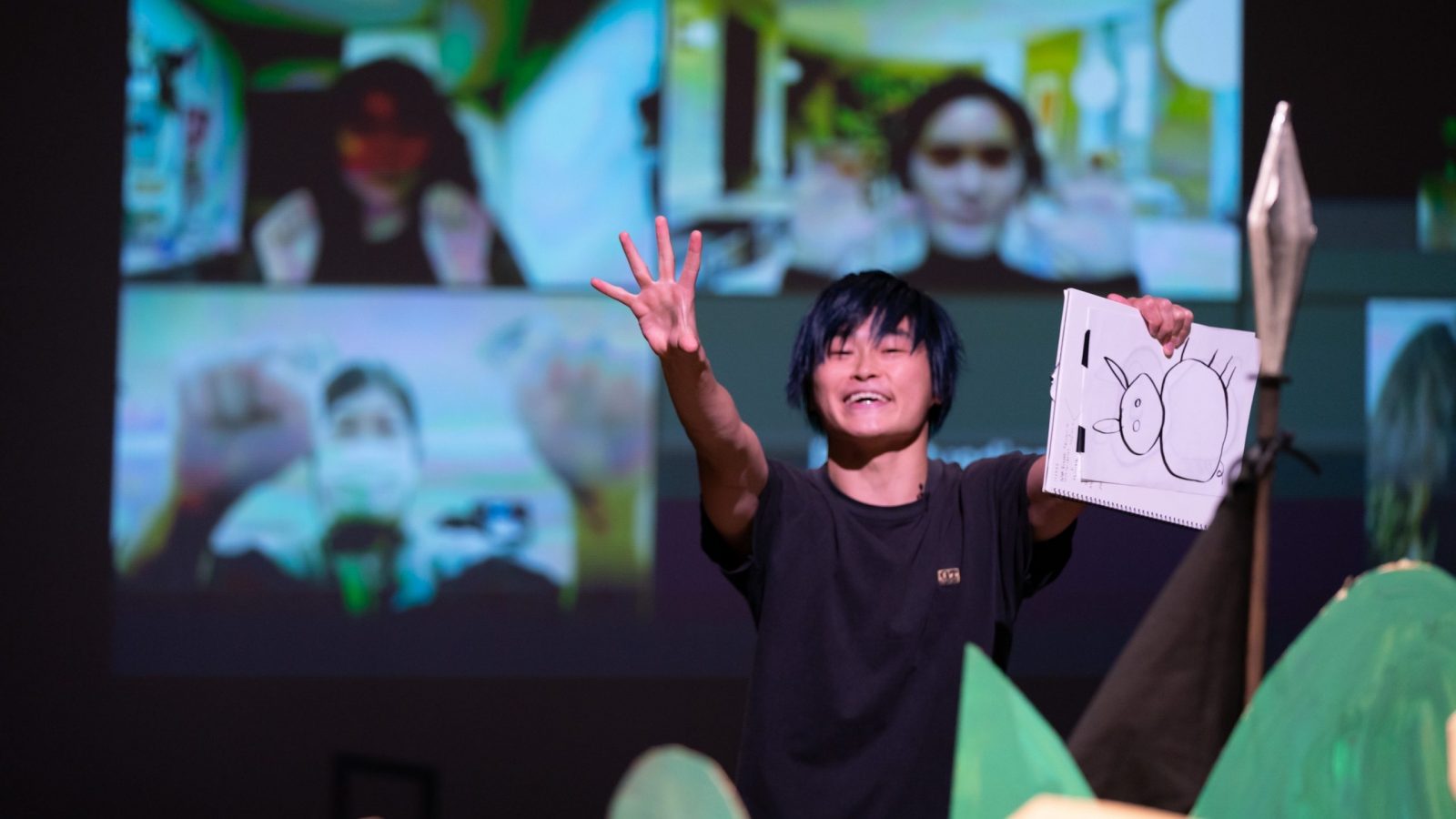 Tokyo Festival 2020 APAF Exhibition "フレ フレ Ostrich!! Hayupang Die-Bow-Ken !" Photo: Kazuyuki Matsumoto
Tokyo Festival Program
From the Farm "フレ フレ Ostrich!! Hayupang Die-Bow-Ken!"
by James Harvey Estrada, Aokid, Masashi Nukata
END
Directorial Team
James Harvey Estrada (The Philippines), Aokid (Japan), Masashi Nukata (Japan)

Performers
Bunny Cadag (The Philippines), Robi Rusdiana (Indonesia), Mei Yamanaka (Japan)
Straddling both online and offline venues, a hybrid theatre performance originally developed by young artists at Asian Performing Arts Farm 2020
This reworking of a buzzworthy piece from the Tokyo Festival 2020 APAF Exhibition program is a hybrid form of performance straddling both online and offline venues (in the shape of Minamiotsuka Hall). Neither online streaming of a theatrical performance nor online theatre, this new theatrical experience is a result of collaboration between young Asian artists.
Schedule
Wednesday, October 6 19:00
Thursday, October 7 19:00
Friday, October 8 14:00 *Post-show talk

Box office/doors open 15 minutes before performances
Performance time: 70min (TBA)
Accessibility
Subtitles: Available (English or Japanese)
Wheelchairs
No entry for preschool children (Minamiotsuka Hall)
Ticket
Points to note
Social Asia Theater (Online)
A virtual theater experience where audience members become part of the story, traveling back and forth between fiction and reality. The audience will experience the performance by participating remotely in the story as a resident of the town of Bayang Ng Damo.

- Participate online from your preferred location.
- The performance will be streamed via video conferencing software Zoom.
- We recommend viewing with earphones or headphones.
- There are some scenes where audience members will be asked to turn their cameras and microphones on and perform simple lines or actions.
- The Zoom screen will also be displayed to the audience at the Minamiotsuka Hall.
- Private information such as the names of audience members will not be broadcast.
- If you prefer, you can participate while hiding your face using a mask, hat, glasses, or filters on apps such as Snap Camera.
- There will be an orientation 15 minutes before the performance, which we encourage all to attend.
- We will provide a more detailed explanation to our audience of how to use Zoom at a later date. If anything remains unclear, please contact [ ostrich@tokyo-festival.jp ].

*The performance will be streamed via video conferencing software Zoom. Please check your viewing environment using the link below:
▶support.zoom.us/hc/en-us/articles/201362023

Zoom can be used from smartphones and devices such as iPads, iPhones, and Android devices however, we recommend viewing on a computer for the best experience.

*Recording the performance in any way (audio/video recording, screen captures, etc.) is strictly prohibited.
Minamiotsuka Hall
A hybrid theater experience combining live and online performances. We have taken the utmost precaution to create a safe theater-going experience.

- Doors open 15 minutes prior to the start of the performance.
- Measures will be taken to prevent the spread of coronavirus. Before attending the performance, be sure to check the link below.
https://tokyo-festival.jp/2021/en/info/covid19/
- Please wear a mask at all times.
- Please be aware that those with a fever higher than 37.5 degrees or those deemed to be unwell may be refused entry on the day of the performance.

​

*Please be aware that as both performance locations rely on the internet for live-streamed elements, in some cases the visuals or audio may be disrupted by connection issues, etc. Depending on the situation, it may become necessary for us to temporarily stop the broadcast and reconnect.
Access
Summary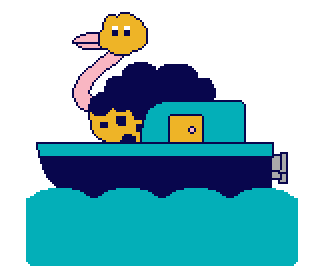 Story
Bayan ng Damo is a lush, green paradise ruled by A-mat, who uses his dreams to lead his people. His dreams are summoned by the mysterious Ante's powers. But one day, Ante passes away, leaving a prophecy behind: "A one-eyed goat shall be born, bringing great misfortune to this land." No longer able to dream, A-mat follows the words of Ante and orders his guards to find and kill every last pregnant goat.

Ygme, a goat keeper, and Yna, a pregnant goat Ygme regards as family, flee across town to escape A-mat and his men. While on the run, Yna gives birth to Tartaros—a baby goat with one eye—just as Ante predicted.

Based on an allegorical tale inspired by realities across Asia, artists from the Philippines, Indonesia, and Japan create a hybrid play that bridges the theater and online space with the help of an ostrich.
Characters
Ygme: A young boy who works as a goat keeper.
Yna: A white goat kept by Ygme.
Tartaros: A one-eyed goat. Yna's child.
Nihan: A goat keeper and Ygme's friend.
Alicia: A nanny goat kept by Nihan.

Ante: A healer and prophet. (Ante's shining magic stone comes into Ygme's possession at Ante's funeral. With the stone in his possession, Ygme is able to regain the power of the lullaby.)
A-mat: The ruler of the city of Bayan ng Damo. Hides a great secret.
Councilor: Responsible for carrying out A-mat's rules and ordinances.
The Ranch Owner: Ygme and Nihan's employer.
Guards: Soldiers who lead the people.
Amatists: The residents of Bayan ng Damo (played by the online audience).
Background to the work
The title
"フレ フレ Ostrich!! Hayupang Die-Bow-Ken!"
フレ フレ (fure fure) is a shout of encouragement originating in the English "hurray!" The title conjures up the idea of cheering on as the audience joins forces with the ostriches to search for eggs. "Hayupang" is a Tagalog word meaning "animal-like." "Die-Bow Ken" is made to sound like the Japanese word for "great adventure," but also incorporates the meaning of the key words that symbolize the story: Die= death, Bow=a bow, and Ken=knowledge. Each of the three members of the direction team came up with proposals for the title, mixing the sounds with English, Japanese, and Tagalog words, before deciding on this punning title from images associated with each language.
Story origins
The one-eyed goat that appears in the work came from Ilocos Norte on the island of Luzon, birthplace of the late dictator Ferdinand Marcos, the one-eyed goat was born in 2017 during the time of President Rodrigo Duterte's regime. In the Philippines, a one-eyed goat is said to be a harbinger of both happiness and unhappiness, so the question is whether the one-eyed goat born in the Philippines will propagate authoritarianism like President Duterte. It is a story based on the question of whether serious illness and misery would also spread, as a consequence of something bad happening like this.
What the ostriches represent
In August 2020, two escaped ostriches ran around the streets of Manila in the Philippines. While people were isolating, the runaway ostriches on their "big adventure" became a much talked-about symbol of freedom in the coronavirus-stricken country.
Profile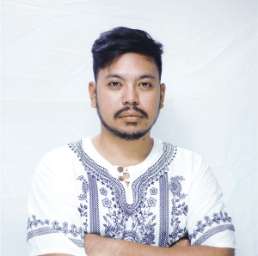 James Harvey Estrada

James Harvey Estrada (b. 1986) is a theater, performance, and film maker. His works include: Hear, Here!, which was created to advocate for, and empower, the Deaf community; Reign-Bow, a piece of drag-vocacy reducing the stigma surrounding HIV; and Maikling Dasal, Mahabang Gabi, a play on the plight of Overseas Filipino Workers. He is the Artistic Director of The Scenius Pro., a contemporary performance company based in Manila, and the Media Head/Director of Artists On Q, an online platform for documenting and creating during the coronavirus pandemic. Estrada is also a performing arts mentor at the Regional Lead School for the Arts in Angono. He recently presented his work at Virgin Labfest 2020 (lockdown edition), which took place online. He was also an APAF2019 Lab participant.
jeymsharbi.wordpress.com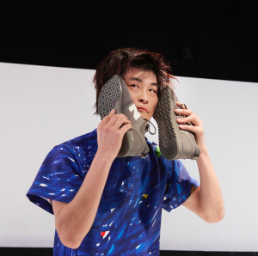 Aokid

Aokid (b. 1988) is a dancer and artist who founded the projects AokidCity and Doubutsuen. After performing as a breakdancer until the age of 20, he then began creating fine art and performance art pieces. His collaborations take on various forms, and involve artists from a variety of genres such as performance art, music, and fine art. With Doubutsuen (an event in which participants stroll through public parks while performing to each other) and Street Live & Beer, Aokid seeks to re-define the nature of urban behaviors in Tokyo through the potentiality of performance. He was awarded the Jury Prize at Yokohama Dance Collection 2016 Competition I for free free created with Takumi Hashimoto, and presented Tiger, Tiger, with Chiharu Shinoda, at the Bangkok Biennial in the summer of 2018.
ninjaaokid16.wixsite.com/aokid
Masashi Nukata

Masashi Nukata (b. 1992) is a composer and director who heads the performing arts group Nuthmique as well as the eight-piece music group Tokyo Shiokouji. His stage work interrogates the very notion of performance, pushing the boundaries of performing arts with scripts and directorial techniques that draw on his musical background. He actively collaborates not only with actors, but with artists from diverse genres including dance, rap, and film. He has won top prizes at the 16th Aichi Arts Foundation Drama Award and the 2018 Komaba Agora Directors Concours. As a composer, he has provided music for advertising campaigns such as the Central Japan Railway Company's "Let's go to Kyoto," and for numerous stage productions including Satoko Ichihara's The Bacchae – Holstein Milk Cows (Aichi Triennale 2019).
www.nukata.tokyo
Bunny Cadag

Bunny Cadag is a vocalist as well as a theater/performance researcher and maker engaging in discussions about gender performativity in the Philippines and Asia. She was a fellow of the multidisciplinary transcultural performance exchange program Monsoon in Antwerp, Belgium in 2017 and participated in Performing Arts Meeting in Yokohama 2019 (TPAM2019) in Japan, and Asia Discovers Asia Meeting for Contemporary Performance (ADAM) in Taipei in 2019 and 2020. Her most recent project involves creating genderless and faceless dolls called "Vera Maningning: Munimuni."
Robi Rusdiana

Robi Rusdiana is the founder of Ensemble Tikoro, an extreme metal vocal group that explores metal vocal techniques, throat singing, and other extended vocal techniques. A metal-head and a big fan of underground culture, Rusdiana also has a keen interest in classical and traditional music, as well as in ancient culture. He has been lecturing at universities in Bandung since 2015. Rusdiana has composed more than 40 works for Ensemble Tikoro since 2012, his most current being Metal (2020), a collaboration with choreographer Lucy Guerin.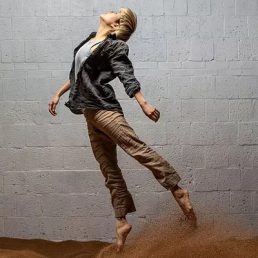 Mei Yamanaka

Dancer, choreographer. Born in Tokyo, she moved to the US in spring 2008. She is based mainly in New York but currently residing in Tokyo. Yamanaka has worked with choreographers including Tiffany Mills and Catherine Galasso as well as creating her own choreographic works. Since fall 2018, she has danced in various locations almost every day in digital projects. From summer 2020 she began streaming her own virtual project, "Ghost Businessman."
*This program features artists participating in the Tokyo Metropolitan Government's project
supporting art and culture, "Cheer for art! — Support Program for Arts and Culture."
Staff
Assistant Director: Ulap, Mana Seike
Online Technical Director: Yuya Ito
Online Technical Assistant Director: Momoha Matsuhashi, Yuki Furuya, Hibiki Yamada
Stage Manager: Koki Ura (Stage Work URAK)
Stage Hands: Yukimi Satou (Stage Work URAK),Hiroo Nakai (Stage Work URAK)
Lighting Designer: Go Ueda (RYU)
Lighting Adviser: Megumi Yamashita (RYU)
Sound Designer: Masashi Wada
Sound Assistant: Natsumi Wakabayashi
Digital Scenographer/Animator: Kazuki Takakura (Theatre Collective HANCHU-YUEI)
Video Designer/Cinematographer: Koichi Wakui
Scenographer: Miho Shimizu, Shikine Watanabe, Aokid
Scenography Assistant: Yumeno Noda, Haruho Ueda
Costume Designer: Miho Shimizu, Aokid
Costume Production: Miho Shimizu
Japanese-English Interpreters: Hibiki Mizuno
Subtitle/Surtitle Operator: Minasu Kai
Program Coordinator: Yuko Uematsu (syuz'gen), Yuko Takeda
Program Coordinator Intern: Yuka Maekawa, Minano Hirano
Credit
Organized by Tokyo Festival Executive Committee[Toshima City, Toshima Mirai Cultural Foundation, Tokyo Metropolitan Foundation for History and Culture (Tokyo Metropolitan Theatre & Arts Council Tokyo)]

Supported by the Agency for Cultural Affairs, Government of Japan in the fiscal 2021
Inquires
Tokyo Festival Executive Committee
+81(0)50-1746-0996 (Weekday 10:00 - 18:00)