【Asia】Dai Chenlian
"东来紫气满函关 (Big Nothing) "
2 Nov, Sat  15:30/19:30
Tokyo Metropolitan Theatre,  Theatre East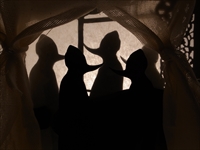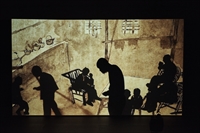 Ghost stories and childhood memories, a shadow-puppet theatre piece where dreams and reality intersect… What lies beyond the humor, the madness, and the nonsense ?
Combining childhood memories with "The Miscellaneous Morsels of Youyang", a collection of stories from the Chinese Tang Dynasty era (9th century), "Big Nothing" is a shadow-puppet theater piece where personal memories and ghost stories, dream and reality cross over.
The 30 volume collection of stories, "The Miscellaneous Morsels of Youyang", differ from many of the texts written in the period. These stories do not have morals, many seeming nonsensical. Some stories feature a mouth growing out of people's arm and demanding food, while others are about a man turning into a pagoda. The stories were an important influence to Lu Xun, the father of Chinese modern literature, who cherished the collection and wrote similar strange stories himself, such as one about the spirit of a snake turning into a beautiful woman. Dai Chenlian grew up in Shaoxing city with his grandmother. In the play, the image of his grandmother begins to melt together with that of Lu Xun, who is also from the city of Shaoxing.
Dai Chenlian creates his own shadow puppets, sometimes becoming the resident of his own fictional world – A world where lighthearted humor can suddenly transform into something uncanny, and where the nonsensical creates new meaning.
Directed and performed by Dai Chenlian
Recommender : Seonghee Kim (Independent Curator/Producer, former artistic director of Asia Culture Center-Theater, South Korea)
Dai Chenlian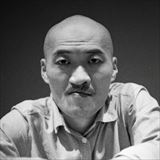 Dai Chenlian, born in 1982 in Shaoxing City, China, graduated from the China Academy of Fine Arts in 2004 and began to make art since 2006. He works with the essential elements of theatre art —story, action, sound, lighting, construction, and gesture— and breaks them into the smallest possible units, in order to reveal the condition, process, and movement of thought in the most direct way. Multiple elements such as space, construction, light, oral record, image, puppetry, poetry reading, musical construction are incorporated in his works. Dai Chenlian brings in stories from the news and of ordinary people that he meets to create his own narration and imagination of the world. He attempts to document unnoticed emotions and events in a time of social transformation, the price that people have to pay to live, and the twists and turns of their destinies. His major works include Qin in Restrospect (2019), Big Nothing (2018), Spring is Splendid Color (2017), Spring River Flowing East IV (2015).
Credit
Director and performer:Dai Chenlian
Set, Lighting and Sound Design:Dai Chenlian
Dramaturgy:You Mi
Production Manager:Zhang Yuan, Kim Shinu
Commissioned and produced by:Kim Seonghee
Co-produced by:National Museum of Modern and Contemporary Art Korea (Seoul) Ming Contemporary Art Museum (Shanghai), SPIELART Festival (München)
Residency support:Seoul Art Space Mullae
Schedule
【Date】2 Nov, Sat 15:30 / 19:30
【Venue】Tokyo Metropolitan Theatre, Theatre East
*No surtitles
*Running time:60min (without intermission)
*On the day of the show, box office and doors open 40 min before show starts.
Tickets
*Reserved Seating Only (tax included in price)
Advance ¥2,500 / Same Day ¥3,000
Disability dis
count ¥2,250 (For advance tickets only / Purchasable only through the Tokyo Metropolitan Theatre box-office by telephone)
*On sale from 15 Sep, Sun 10:00
★Set tickets *End of sales
2-performances Set ¥4,000
6-performances Set ¥9,600
*Pre-release ony
*Pre-release : 1 Sep, Sun 10:00 to 14 Sep, Sat 23:59
**********
*No student discounts
*Preschool children cannot attend the performances
*All programs other than the listed performances are free of charge, and

reservations

are not required (audience will enter in order of arrival)
*If you wish to attend a performance in a wheelchair, please contact the Tokyo Metropolitan Theater box-office.
Tokyo Festival Ticket Centre
*The links will lead you to the Tokyo Metropolitan Theatre Box Office website.
Booking via phone or at the ticket counter
Tokyo Metropolitan Theatre Box Office
At the ticket counter: 10 a.m.-7 p.m.
(Tokyo Metropolitan Theatre 1F/excluding days the theater is closed)
TEL: 0570-010-296 (navi dial) 10 a.m.-7 p.m. (excluding days the theater is closed)
Ticket Pia
0570-02-9999 (24hours・IVR)
Venue
Tokyo Metropolitan Theatre
1-8-1 Nishi-Ikebukuro, Toshima-ku, Tokyo 171-0021
Tel: 03-5391-2111
2-minute walk from West Exit of Ikebukuro Station on JR lines, Tokyo Metro lines, Tobu Tojo Line, and Seibu Ikebukuro Line
*Directly accessible from Exit 2b of Ikebukuro Station underground passage
Organizers
Tokyo Festival Executive Committee[Toshima City, Toshima Mirai Cultural Foundation, Festival/Tokyo Executive Committee, Tokyo Metropolitan Foundation for History and Culture(Tokyo Metropolitan Theatre & Arts Council Tokyo)]
Contact
competition@tokyo-festival.jp