Directly managed programs FT label
An Imperial Sake Cup and I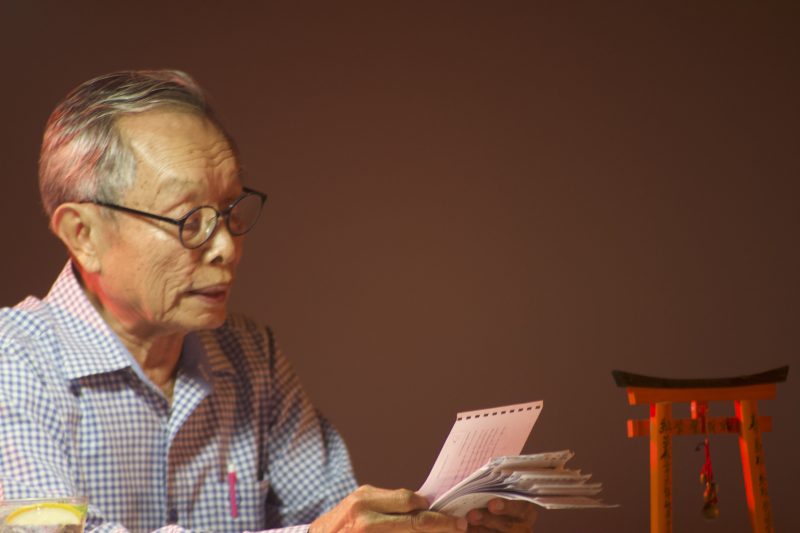 Photo by Santiphap Inkong-ngam
By Dr. Charnvit Kasetsiri
Directors: Teerawat Mulvilai and Nontawat Numbenchapol
Showa, Heisei, Reiwa: a lecture performance by a historian and observer of changes in Japan and Thailand through time
A lecture performance by Charnvit Kasetsiri, a renowned historian and specialist in Thai and Southeast Asian studies. Charnvit traces his personal history starting from the commemorative sake cup he received when the Crown Prince (later the Heisei Emperor Akihito) and his wife paid an official visit to Thailand in 1964, and goes on to outline events that ushered in social transformation around the world, such as the stationing of Japanese forces in Thailand, the Vietnam War, and the student uprisings in Thailand in the 1970s. In this lecture performance he applies a personal and micro perspective to objects and memories, juxtaposing the journey taken by Thailand and Japan, and delicately unraveling the history of both countries. The Japan event is the first overseas staging of this piece, which premiered in Chiang Mai, Thailand as part of the program for "The Breathing of Maps" in 2020, organized by The Japan Foundation Asia Center.
Program Director's comment
This year's F/T label offers a program of works designed to make visitors feel the presence of people again; that there are real flesh-and-blood people on the other side of the screen you look at every day, behind the scenes of manufacturing and logistics, and even in buildings that are being destroyed. "An Imperial Sake Cup and I" is a solo work by a renowned historian, and given the current world situation in particular, we wanted to introduce a perspective that has observed social changes in both Japan and Thailand for more than half a century, making it through many times of upheaval.

F/T Label Program Directors, Kaku Nagashima, Chika Kawai
Profile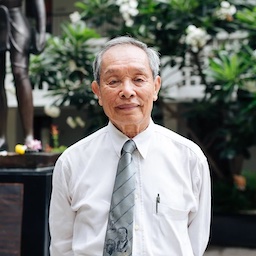 Charnvit Kasetsiri

Charnvit Kasetsiri has had a distinguished career as History Professor of Thammasat University, Bangkok, Thailand, and as a prominent historian and Thai studies scholar. After obtaining his Bachelor's degree in Diplomacy with Honors from Thammasat (1963), he pursued a Master's in Diplomacy and World Affairs at Occidental College, Los Angeles, California (1967) under a Rockefeller scholarship, and a Ph.D. in Southeast Asian History at Cornell University (1972). His thesis "The Rise of Ayudhya and a History of Siam in the 14th and 15th Centuries" was published by Oxford in Asia in 1976. He served as Lecturer of History at Thammasat from 1973 to 2001, founded the Southeast Asian Studies Program in 2000, and was President of Thammasat University from 1995 to 1996. His latest work deals with questions of war and peace, and relations between ASEAN countries, especially between Thailand and Cambodia. He is the co-author, along with Pavin Chachavalpongpun (Kyoto) and Pou Sothirak (Phnom Penh), of "Preah Vihear: A Guide to the Thai-Cambodian Conflict and Its Solutions" (2013). A Thai social studies textbook he co-authored has also been translated into Japanese ("World Textbook Series 6: Thai history: Thai high school social studies textbook," published by Akashi Shoten in 2002, supervised by The Institute of Policy and Cultural Studies, Chuo University with Japanese translation by Chiyo Kakizaki). Charnvit was awarded the Fukuoka Academic Prize in 2012, as well as the award for Distinguished Contributions to Asian Studies by the Association for Asian Studies, USA in 2014.
Teerawat ʻKa-ge' Mulvilai

Teerawat 'Ka-ge' Mulvilai is a co-founder and artistic director of Bangkok- based theatre group B-Floor Theatre as well as a director and performer. He serves as lecturer in Devised Theatre at Thammasat University's Faculty of Fine and Applied Arts. He has received numerous awards including the Silpathorn Award (2018) presented by Thailand's Office of Contemporary Art and Culture, Ministry of Culture in recognition of his outstanding achievements in the world of Thai theatre. Blending plastic and performing arts, Teerawat creates critical works that deal with structural issues that affect people's lives, such as violence and injustice in society and politics. In Japan, he has performed with internationally active directors such as Hiroshi Koike, Oriza Hirata, and Toshiki Okada. He recently appeared on stage in Japan in "Pratthana: - A Portrait of Possession" (2019)
Nontawat Numbenchapol

Film director. He has produced a number of socially conscious documentaries that have been highly acclaimed internationally. His first documentary film, BOUNDARY (2013), screened at the Berlin International Film Festival, the International Documentary Film Festival Amsterdam (IDFA), the Yamagata International Documentary Film Festival, and many other festivals. His second film, BY THE RIVER (2013), was the first Thai film to win the Special Mention Award at the Locarno International Film Festival. #BKKY (2016) premiered at the Busan International Film Festival and later won the Jury Award for Best Feature Film from the Lesbisch Schwule Filmtage in Hamburg, Germany.
Performance schedule
Friday, Oct. 28, 6:00 p.m. ★
Saturday, Oct. 29, 4:00 p.m. ★
Sunday, Oct. 30, 3:00 p.m. ★

Running time: 50 mins (TBC)

★= QA session with the artist (approx. 30 min.) will be held after each performance.
Accessibility/Subtitles, No subtitles
Japanese/English subtitles
Language
Ticket information
Ticket prices
All seats unreserved (numbered tickets), tax included
- General:¥2,500

- Aged 25 or under:¥2,000

- High school students or under:¥1,000
-Toshima-ku resident discount :¥2,000, others



Tickets on sale: From 10:00 a.m. on Saturday, Sept. 10
*No preschool children admitted
*Various discount tickets: limited number of tickets, advance sale only, ID must be presented at the time of admission.
Notice to visitors
This performance will be held with measures in place to prevent the spread of coronavirus.
Please be sure to check the following link on the Tokyo Festival website when visiting:
Tokyo Festival anti-coronavirus measures
https://tokyo-festival.jp/2022/en/info/covid19/
-Please wear a mask at all times.
-Please be advised that those who have a temperature of 37.5℃ or higher or those who are not feeling well may be denied admission on the day of the performance
Venue
Staff credits
Executive Producer: Gridthiya Gaweewong
Producer & Production Manager: Manuporn Luengaram
Script Writers: Charnvit Kasetsiri and Jarunun Phantachat
Researchers: Anan Krudphet and Siriwut Boonchuen
Stage Manager & Puppeteer: Surat Kaewseekram
Sound Designer & Operator: Kamonpat Pimsarn
Video Operator & Technical Coordinator: Kronchai Meevong
Lighting Operator: Palita Sakulchaivanich

Tokyo Production
Technical Manager: Eiji Torakawa, Aoi Sato
Stage Manager: Saburo Doi
Design Coordinator: Arata Okada
Props: Mai Motegi
Lighting Coordinator: Naoki Kinoshita (Factor Co., Ltd.)
Sound Coordinator: Rindou Inoue (Sound Weeds Inc.)
Video Coordinator: Takaki Sudo
Video Operators: Ryohei Tomita, Mariko Miyata
Surtitles Operator: Chanida Punyaneramitdee
Surtitles translator, Technical Interpreter: Miho Sentoku
QA Session Interpreter: Miyako-Maria Takahashi
Flyer Design: Tadashi Aoki
Production: Yuko Takeda (NPO Arts Network Japan), Naoko Oshima (Tokyo festival)
Production Assistant: Mone Natori (NPO Arts NetworkJapan)
Video courtesy of AFP/AFLO

Supported by Japan Foundation


Organizer credits
Organizers
Tokyo Festival Executive Committee [Toshima City, Toshima Mirai Cultural Foundation, Tokyo Metropolitan Foundation for History and Culture (Tokyo Metropolitan Theatre & Arts Council Tokyo), Tokyo Metropolitan Government]
Supported by
Agency for Cultural Affairs, Government of Japan in fiscal 2022
Sponsored by
Asahi Group Japan, Ltd.
Inquiries
Tokyo Festival Executive Committee Office
050-1746-0996 (Weekdays 10:00〜18:00)